Welcome to the Teens Encounter Christ (TEC) website for the Green Bay Diocese. We are glad you stopped by and hope that this site will help you to understand TEC and supply you with the information you need.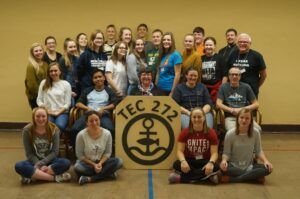 TEC is a weekend experience in Christian living designed for youth, young adults, AND adults.
Participants spend time listening, laughing, singing, reflecting, and discussing things about themselves, others and God.
TEC is based on the death-resurrection of Jesus Christ…the Paschal Mystery.
God bless you today and always.
We have a quick two minute video to preview an appetizer of the TEC retreat weekend.
It is truly a weekend that needs to be experienced.
TEC, Anchor of Hope is based out of Green Bay Wisconsin and has been active for many years.
Here is more information about us. Take a minute or two and check us out! You will be glad you did.